SVM Chatswood Chrysler Jeep Dodge
Establishment and car dealer at 586 Pacific Highway, Chatswood, NSW 2067, Australia. Here you will find detailed information about SVM Chatswood Chrysler Jeep Dodge: address, phone, fax, opening hours, customer reviews, photos, directions and more.
Opening hours
| | |
| --- | --- |
| Sunday | 10:00am — 05:00pm |
| Monday | 08:30am — 05:30pm |
| Tuesday | 08:30am — 05:30pm |
| Wednesday | 08:30am — 05:30pm |
| Thursday | 08:30am — 05:30pm |
| Friday | 08:30am — 05:30pm |
| Saturday | 08:30am — 05:00pm |
Photos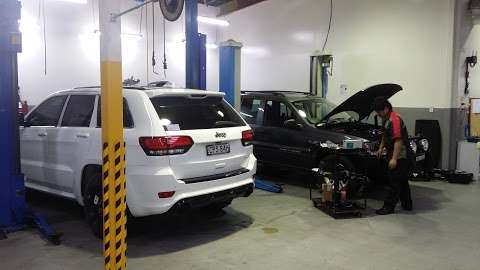 Reviews of SVM Chatswood Chrysler Jeep Dodge
Arjun Dilip Added November 29, 2019

★ ★ ★ ★ ★

I bought a used Alfa Giulietta and it was a wonderful experience. Everyone in the team were courteous. The salesman i dealt with, Ricky, was exceptionally honest, gave me a great deal and was interested in ensuring that i continue to have a great time with the car.

Highly recommend.

Jane Meurer Added November 25, 2019

★ ★ ★ ★ ★

Thank you to the staff at SVM for making my purchase experience so enjoyable. I've been very happy with the whole process. The trade-in price was fair and the new car price was competitive. My car arrived on time and looked amazing. I'm loving it! Thanks again.

First Last Added November 22, 2019

★ ★ ★ ★ ★

The team at SVM Chatswood went above and beyond with their customer service. We recently purchased a car from their team and we had the best experience that we have ever received when buying a car. The team were amazing during the entire time.... From start to finish and even after! They treated myself, my husband and my four children with absolute respect. They new exactly what we needed and worked hard to achieve this for us. We left the showroom as very happy customers with the car that we wanted and all our needs met! I would recommend them to anyone who wants to buy a car with a seamless transaction! Thank you Bridgette and Rob!!!

Cassandra Michie Added November 16, 2019

★ ★ ★ ★ ★

Exceptional customer service, a very professional team that are friendly & full of energy they will go above and beyond . Clearly experts in what they do & efficient from start to finish. An experience that you will won't forget. I will be doing with these next time I go to market looking for a new car & strongly recommend their services. They genuinely care about their branding as a business & role model the meaning of excellence in the car dealership industry. Thank you Evan & team! 10/5

Abdallah Dakroub Added November 04, 2019

★ ★ ★ ★ ★

Great service Robbie & Bridget, and also the entire team. Purchased a Wrangler Sport and been happy ever since. Keep it up guys and thank you!!
Share this page
Additional actions
Today's weather in Chatswood NSW
19:00
19 ℃ 1005 hPa 44 % 5 m/s 22:00
16 ℃ 1008 hPa 53 % 3 m/s