Commonwealth Bank Chatswood Branch
Establishment, bank, finance and atm at 443 Victoria Avenue, Chatswood, NSW 2067, Australia. Here you will find detailed information about Commonwealth Bank Chatswood Branch: address, phone, fax, opening hours, customer reviews, photos, directions and more.
Opening hours
| | |
| --- | --- |
| Monday | 09:30am — 04:00pm |
| Tuesday | 09:30am — 04:00pm |
| Wednesday | 09:30am — 04:00pm |
| Thursday | 09:30am — 04:00pm |
| Friday | 09:30am — 05:00pm |
| Saturday | 09:30am — 01:00pm |
Rating
2 /5
Based on 2 reviews
Photos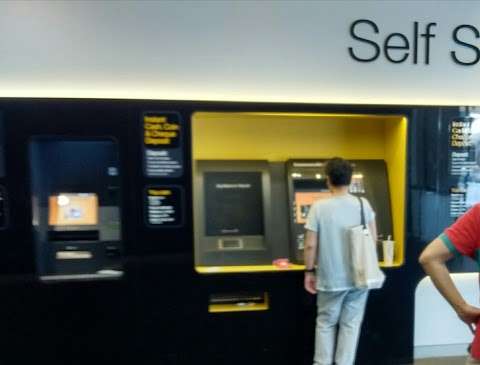 Reviews of Commonwealth Bank Chatswood Branch
Jeff Johnson Added October 10, 2019

★ ☆ ☆ ☆ ☆

The worst bank in Australia. Doesn't matter what time of day you go there it is at least a 20 to 30
minute wait.
Constantly understaffed and when questioned on why this is so all you get is silence or abuse.
Abolutely appalling. At least they are consistently hopeless I suppose. You can rely on it.

Max Menzies Added June 01, 2019

★ ☆ ☆ ☆ ☆

Last Sunday night the forecourt of the branch was covered in rubbish fro Vivid. Please keep it clean.
I can send you aphoto.

li Sun Added November 04, 2018

★ ★ ★ ★ ☆

Very good service

Joseph Lynch Added November 04, 2018

★ ★ ★ ★ ★

I've utilised all of the major banks for my retail banking in recent years (I still use more than one...for various reasons).

From an online banking perspective it's certainly superior, but when face-to-face interaction is required, I'm never dissapointed either.

This bank consistently provides 6 star customer service, along with most other branches. And this one may reach 6.5!

Aaron Chen Added September 21, 2018

★ ☆ ☆ ☆ ☆

1. Waiting for ages at the teller counter and then was told that had to go back to the staff near the entrance to be appoioted to certain teller for business.

2. The staff near the entrance (welcome staff) was not organized at all.... Using a pad to note down people's name and their business is fine, but when you call people, can you recognize people's face? or just don't try to recongise people's face and just call out people's name loudly?

Was waiting for very long time and then asked the welcome staff again and was told that they have called my wife's name? Really? ? We were sitting on the couch which is quite close to where they stand. Why we couldn't hear it?

Can you just use a ticket machine or other methods? Very inefficient... ANZ does a lot better.

3. In the teller room, the teller was trying for many times but still failed to do what we want to do in the CBA system.... It should be a very easy task and then finally we went back to the teller counter and the issues were fixed.

Very bad experience.

Seriously, Guys try your best not to go this branch at noon during workdays.

GT40DT1 Added August 26, 2018

★ ☆ ☆ ☆ ☆

Having banked with Commbank for in excess of 20 years with both personal and business accounts I am totally disgusted at how I have been treated and when Commbank advertises the slogan "We Can" it should be changed to "We Won't" because when you need them the most they refuse to help.
They continually make you offers of money when you don't need it but when the time comes and you do they refuse.
I will be closing my Commbank accounts and going elsewhere.
Dimi Terleckyj

Jules Prual Added August 22, 2017

★ ☆ ☆ ☆ ☆

Thank you for closing early today was rushing the whole way from North Sydney to the bank, paid for the parking just to see a closed bank. Very poorly updated opening hours.

Pedro Alberto Added June 30, 2017

★ ★ ★ ☆ ☆

Always busy, more staff needed. Good service.
Share this page
Additional actions
Today's weather in Chatswood NSW
16:00
21 ℃ 1002 hPa 38 % 8 m/s 19:00
19 ℃ 1004 hPa 43 % 6 m/s 22:00
16 ℃ 1007 hPa 53 % 4 m/s